October 10th 2010

Podcast101 - Creating and Hosting an Audio Podcast

<-- Go Back to Step 8
Step 9: Validating the Feed

In the last step we created a Feedburner feed to serve as our public feed. But before we submit that feed to iTunes and the other directories, we want to test it out first.

There is a feed validator at http://feedvalidator.org/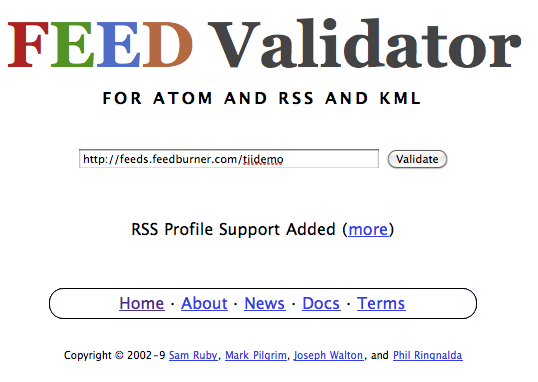 When you get to the page above - simply enter in the feed URL created in Step 8 into the box and hit the "Validate" button.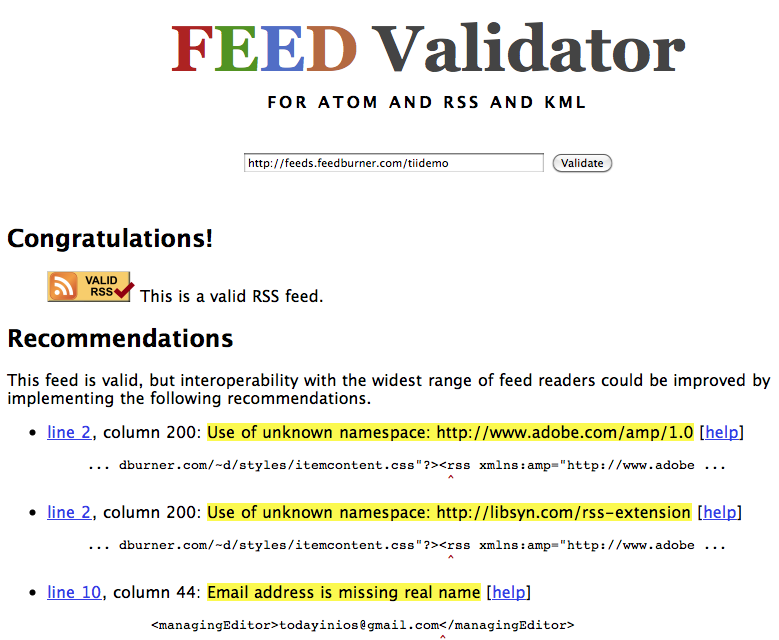 You should see a message similar to that above.

Do not worry about the "Recommedations" message. What we want to see is at the top of the page.

You should see the message above "Congratulations This is a Valid RSS feed"

If you do not see this message - then you will want to look over the error messages above. Again if you did everything per the previous pages and did not use any special characters in the Title or Descriptions - you should not be seeing any issues at this step. However - we did want you to make sure the feed is valid before submitting to iTunes - else you could have some major issues.

Note - We recommend that you validate your feed after each update to your feed (each time you add a new episode).

If you do see the "Congratulations" message then you are ready for Step 10.



<-- Go Back to Step 8
Top
---
If you liked this tutorial make sure you put a link to it from your website.
http://www.podcast411.com/podcast101/step9.html
If you have comments / questions you would like to add please send an email to the address below and we will post comments / questions on this page.
rob AT podcast411 DOT com
---



Comments / Questions



.

---