October 10th 2010

Podcast101 - Creating and Hosting an Audio Podcast

<-- Go Back to Step 10
Step 11: Submitting to the other Podcast Directories.


Once you submit your podcast feed to the big Three - iTunes, Zune and Blackberry Podcasts - There are over 50 other active podcast directories out there where you can submit your podcast feed. I try to keep an active directory of the podcast directories HERE.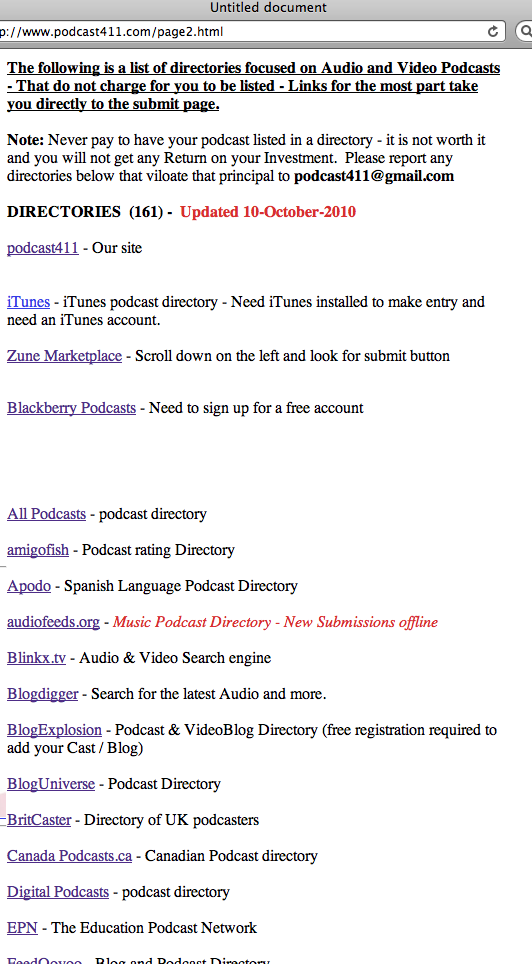 Before you go off submitting to all the directories. It will help if you take a couple of minutes and put the following info into a plain text document.
Title of the podcast
Description in less than 255 characters
Feed URL
Website URL
iTunes Web PAge URL
Keywords - Coma Separated
Keywords - Space Seperated
Image URL
email
Getting all of this together ahead of time will make submiitting to these sites go much faster.
Ok - now you can go HERE to find the links to submit your podcast to.
If you found this tutorial helpful - please make sure to tweet about it, mention it on facebook, put a link to it on your site and promote however else you think will get the word out.
Regards,

Rob W - podCast411
<-- Go Back to Step 10
Top
---
If you liked this tutorial make sure you put a link to it from your website.
http://www.podcast411.com/podcast101/step11.html
If you have comments / questions you would like to add please send an email to the address below and we will post comments / questions on this page.
rob AT podcast411 DOT com
---



Comments / Questions



.

---